This eNews sponsored by Fully Promoted Cleveland (West):
---
Do you have some business news to share?  Business anniversaries, accomplishments, awards, publications, etc.?  Send to judie@ncbia.com for consideration in our next eNews update.  We want to hear from you!
——————————
——————–
Applying for Membership: James Miller, Howard Hanna
————————————————–
Condolences to Steve Fleming, Shamrock Development
for the passing of his mother.
————————————————–
Condolences to Doug Rogers, Dollar Bank
for the passing of his mother.
————————————————–
CLICK HERE to visit the COVID-19 Resources page
#TeamNCBIA
#InThisTogether
---
Wednesday, June 24 – 5:00 – 7:00 PM
June Banquet and Membership Meeting
Lake Erie Crushers Stadium
2009 Baseball Blvd, Avon
Friday, July 31 – (Assigned Tee Times) 
2020 NCBIA Golf Classic
Sweetbriar Golf Course
Avon Lake
750 Jaycox Road, Avon Lake
*All meetings at the NCBIA office unless otherwise shown
---
Let's get back together again at our General Membership Cookout!
A few changes to our first event back since the shutdown – Pogie is still cooking but we will be at Lake Erie Crushers Stadium.  This event will be in compliance with the Ohio Department of Health's guidelines.  Pogie will be providing us all a delicious, hearty dinner or BBQ ribs, his signature chicken, corn and red-skinned potatoes.
CLICK HERE to register online
CLICK HERE to download and print flyer
CLICK HERE to register via email
---
2020 Golf Classic
July 31, 2020
This year's event will be a bit different.
The safety of our attendees, NCBIA and Sweetbriar staff is a primary concern.  We encourage all attendees to bring a personal mask and hand sanitizer.  Rules and tee times will be emailed to you prior to the outing.
Foursomes are Swinging in and We are Offering Some New Marketing Opportunities! (see flyer for details)
CLICK HERE to register online
CLICK HERE to download and print flyer
CLICK HERE to register via email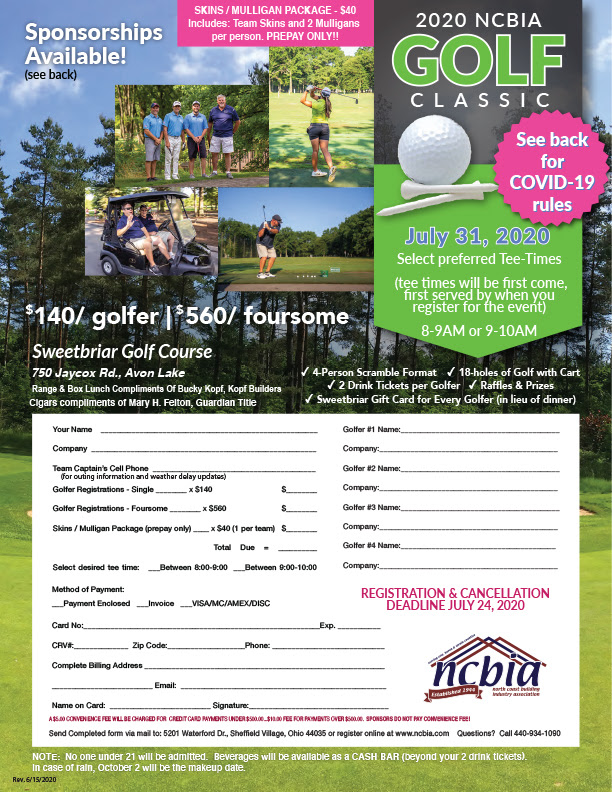 ---
Updated Calendar!
Our calendar is being updated regularly as new events are added or canceled. Please be sure to review the latest update below.
CLICK HERE to download the NEW 2020 Calendar of Events
---
Here are some FREE resources for NCBIA members to use on social media, websites, etc. to let customers know you are open for business.  They are all unbranded, so feel free to add your logo and share on your social media outlets and websites.  If your specific industry isn't yet covered, shoot me an email to request it!  
info@genevievelyle.com
CLICK HERE to access the free resources shown below
More free resources to come soon!
————————————————–
We are spicing things up on our Facebook page!! Come join us for National Homeownership Month! We want to hear from you!  Don't miss out on special giveaways for MEMBERS as well as consumers.
---
NAHB Member Advantage gives members an easy way to reduce expenses, maximize profits and increase efficiency. Through agreements with leading national companies, NAHB offers exclusive discounts on a variety of products and services that can benefit your business, employees and family. In the past year, members have saved over $17M through Member Advantage. For the most up-to-date information about which companies are offering discounts as well as detailed information on how to access the savings, please visit www.nahb.org/savings.