---
Do you have some business news to share?  Business anniversaries, accomplishments, awards, publications, etc.?  Send to judie@ncbia.com for consideration in our next eNews update.  We want to hear from you!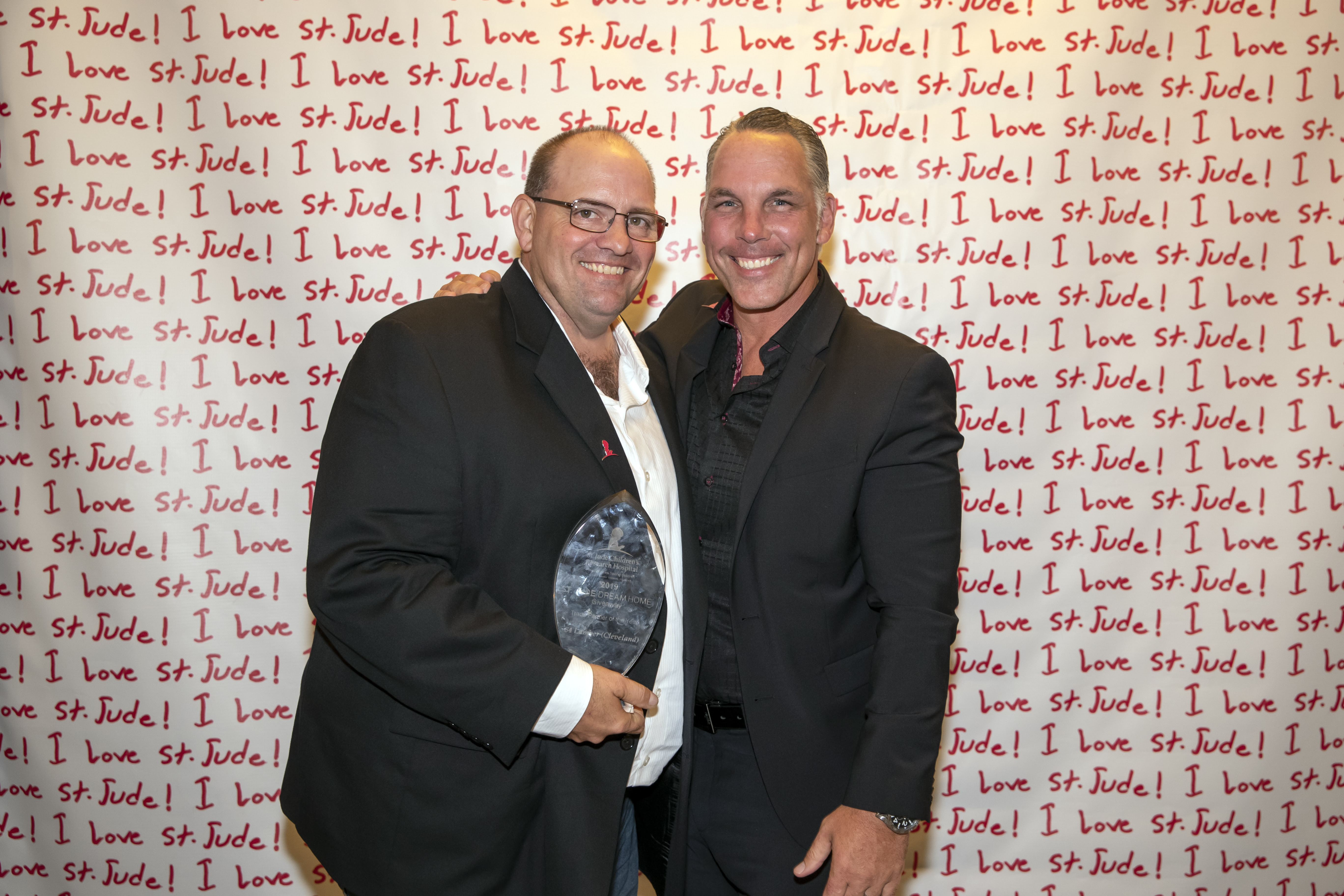 We are so proud of our 2019 Vice President Mr. Jeremy Vorndran as he and 84 Lumber were named Trade Partner of the Year for all the work they did with the St. Jude Dream Home! We greatly appreciate everything Jeremy did with the Dream Home Giveaway and we are honored to have him as a part of the NCBIA! Pictured with Jeremy is Jeff Crawford of Cleveland Custom Homes, the builder of the 2019 St. Jude Dream Home. Keep up the great work gentlemen!
———————————————–
Applying for Membership:
Doug Fryer, ABC Contracting
---
SAVE THE DATE:
​​
Wednesday, October 16 – 5:00
MARKETING OPPORTUNITIES!
NCBIA 75th Birthday Bash!
Ahern's Banquet Center, Avon Lake
Tuesday, October 22 – 9:00
Advertising/Marketing Committee
All are invited to attend!  Come to the meeting and see how you can help!
Thursday, December 5 – 6:00-8:30
MARKETING OPPORTUNITIES!
Young Professionals, Second Annual Ugly Sweater (Christmas)
Avon Brewing Company, Avon
Tues & Wed., December 17 & 18 – 10:00-4:00
MARKETING OPPORTUNITIES!
10-Hour OSHA Training
*All meetings at the NCBIA office unless otherwise shown
---
75th Anniversary Trivia:
Free prize to the FIRST one to answer!!!
Q: What can you win at the October 16th General Membership Meeting (75th Birthday Bash & Election Night)?
A: A trip!! (valued at $1,800) if you sponsor a new member by October 15th at 5:00 pm (membership must be paid)
---
Don't Miss the NCBIA 75th Birthday Bash!!
This is also our fall General Membership meeting and Election Night!
Great opportunity for networking with your fellow NCBIA members, Past Presidents (some will be blasts from the past!!), Hall of Famers, and Life Directors.
Delicious dinner with OPEN BAR!
DON'T FORGET!  One lucky winner will get a $1,800 trip certificate!  If you sponsor a new member by October 15th at 5:00 PM (membership must be paid), you will automatically be entered into the drawing.  Winner to be announced at the meeting!!
Come see the history we have built and where the next 75 years will take us!
Sponsorship Opportunities are Still Available! 
CLICK HERE to register online
CLICK HERE to download and print flyer
CLICK HERE to register via email
THANK YOU SPONSORS!
Grand Sponsor:
Fidelity National Title
Supporting Sponsors:
CareWorks
First Federal Savings of Lorain
Kopf Builders
Dollar Bank
Third Federal
National Design Mart
Patron Sponsor:
CATForce.org
Express Employment
---
The Young Professionals Committee Presents…
The Second Annual Ugly Sweater Christmas!
Come one, come all!  We hope you will join us for this joyful evening of ugly sweaters!  The defending champions challenge you to "out ugly" their sweaters from last year.
SPONSORSHIPS are available!
CLICK HERE to register online
CLICK HERE to download and print flyer
CLICK HERE to register via email
---
10-Hour OSHA Training
Back by popular demand, the NCBIA brings you the Ten-Hour OSHA Training.  Send your workers and come yourself!
The 10-hour class is intended to provide workers with awareness of common job-related safety and health hazards. Through this training, OSHA helps to ensure that workers are more knowledgeable about workplace hazards and their rights, and contribute to our nation's productivity.
Schedule:
Orientation
Introduction to OSHA and the OSH Act
General Safety and Health Provisions
Health Hazards: Hazard Communication
Health Hazards: Hazardous Materials
Cranes and Rigging
Focus Four: Electrical Safety
Struck-By and Caught In-Between
Fall Protection
Personal Protective Equipment
Hand and Power Tools
Scaffolds
Stairways and Ladders
Final Exam
CLICK HERE to download and print flyer
CLICK HERE to register online
CLICK HERE to register via email
---
What's Coming Up Next?
Join us!  Sponsor!  Get involved!  There's always another great event around the corner.  Mark these important dates on your calendar!
Download the calendar
---
SPECIAL OFFER!!

Be a part of history in our Special Edition 75th Anniversary Membership Directory & Consumer Guide.  Send us your historical ad or let us create one for you!  See flyer or email me for more info.
Contact me today for help with your marketing plan, graphic design, custom photography, and all types of print and digital marketing.  (440) 934-1090 or maria.sabala.ncbia@gmail.com.
CLICK HERE to download and print flyer
---
NAHB Member Advantage gives members an easy way to reduce expenses, maximize profits and increase efficiency. Through agreements with leading national companies, NAHB offers exclusive discounts on a variety of products and services that can benefit your business, employees and family. In the past year, members have saved over $17M through Member Advantage. For the most up-to-date information about which companies are offering discounts as well as detailed information on how to access the savings, please visit www.nahb.org/savings.