---
This week's eNews Update brought to you by: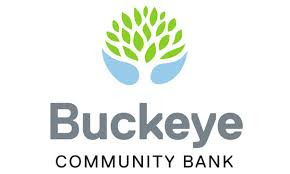 ---
Applying for membership:
Joseph Molnar at Bob Schmitt Homes, Inc.
---
Do you have some business news to share?  Business anniversaries, accomplishments, awards, publications, etc.?  Send to judie@ncbia.com for consideration in our next eNews update.  We want to hear from you!
Membership Chair – Sara Majzun-Garwood "We had so much fun at last week's member mixer, hosted by Fully Promoted Cleveland and Fidelity National Title.   Watch for our next one in September."
(Want to be one of the two sponsors? Give the NCBIA a call!)
Join us as we celebrate the official GRAND OPENING of Dellisanti Design Center in Avon! Serving Homeowners, Contractors, and Designer in their desire to find quality Cabinets, Countertops, Tile, Hardwood, Luxury Vinyl Planks, Carpet, and Cabinet Hardware. We are a full service Design Center, offering Design Guidance, Renderings, carefully curated Products, and Installation if needed. We are OPEN to the PUBLIC offering a comfortable and friendly environment for your Home Improvement shopping. We will have refreshments, raffles, and the opportunity to meet the team!
Please RSVP to dellisanticonstruction@gmail.com.
---
SAVE THE DATE:​
​Friday, August 2 – 8:00 – 3:30
MARKETING OPPORTUNITIES!
Golf Classic
Sweetbriar Golf Course
750 Jaycox Rd., Avon Lake 
Wednesday, August 7 – 9:00 – 10:00
Sales & Marketing Meeting
​
​Thursday, August 15 – 6:30 – 10:00
MARKETING OPPORTUNITIES!
Night at the Crushers
Sprenger Stadium
2009 Baseball Blvd., Avon
​Saturday, September 7 – 1:00 – 5:30
MARKETING OPPORTUNITIES!
Softball Game & Family Picnic
Amherst Township Park
Amherst Township
​Wednesday, September 11
3:30 – 5:00 – Executive Committee
5:00 – 6:30 – Board of Directors Meeting
*All meetings at the NCBIA office unless otherwise shown
---
75th Anniversary Trivia:
Free prize to the FIRST one to answer!!!
Last week's winner (two in a row, actually), Susan Grachanin, Buckeye Community Bank
Answer: FCA US LLC vehicle program will give you, your employees, or family members a discount.
Q: What can you win at the October 16th General Membership Meeting (75th Birthday Bash & Election Night)?
---
NCBIA Golf Classic
Don't miss out on marketing opportunities!!
Join us for dinner!

There's still time to snag a great marketing opportunity!  If you sign up now, your logo immediately goes on ALL marketing materials and will increase your reach over the next 2 weeks of Golf Classic promotions!
Please contact the NCBIA office at (440) 934-1090 or judie@ncbia.com for more information.  Sponsorships include at least 2 tickets to this luncheon, promotion mic time, and your name/logo on the registration form.  See flyer for details.
CLICK HERE to download and print flyer
CLICK HERE to register online
CLICK HERE to register via email
---
NIGHT AT THE CRUSHERS!!
FUN night to sponsor!!  See flyer for details.
Come out and enjoy a fun ball game with the NCBIA!  Watch the Crushers take on the Gateway Grizzlies.  This is a GREAT event for the whole family!!
Make your reservations early; tickets are LIMITED to the first 50 people.
Ticket includes your ticket to the game, buffet dinner, water, tea & lemonade.
CLICK HERE to download & print flyer
CLICK HERE to register online
CLICK HERE to register via email
---
Can you hit that?
Or pitch?
Or field?
Or simply muscle your way to first base?
Then WE NEED YOU!!
Email Sara at sara.majzun@security-ohio.com to save a spot on one of the TWO teams we're building.
Come join us for this fun-filled, family-friendly afternoon where NCBIA members go head to head in a friendly softball game.
Not playing?  Then come cheer on the players!
We also have some fun sponsorships available!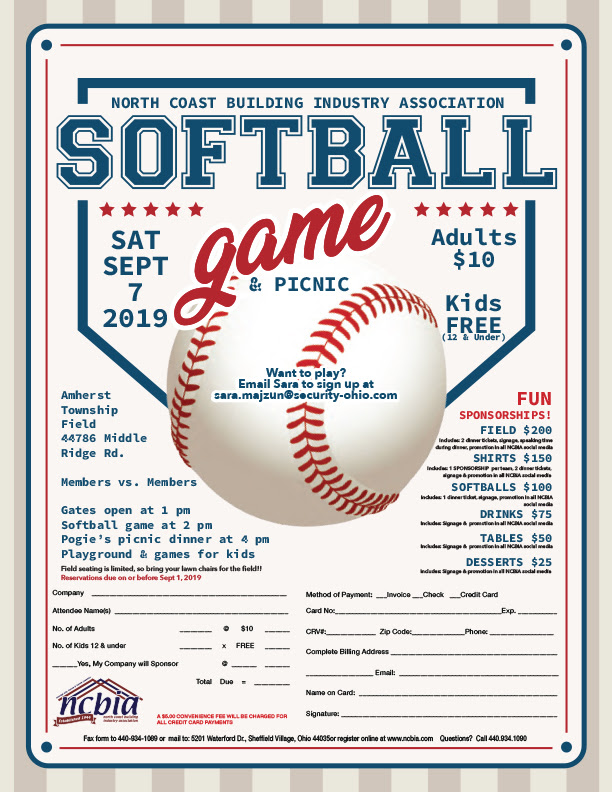 CLICK HERE to register online
CLICK HERE to download and print flyer
CLICK HERE to register via email
---
What's Coming Up Next?
Join us!  Sponsor!  Get involved!  There's always another great event around the corner.  Mark these important dates on your calendar!
---
2019 Marketing Guide At-a-Glance!
Marketing opportunities: SIMPLIFIED.  Call or email me (Maria) to schedule a meeting to create your personalized marketing plan.  Choose from digital (run an ad on our awesome, NEW website!), print or one of many fun events throughout the year.  We have something to fit every budget and design help, too!
SPECIAL OFFER: Be a part of history in our Special Edition 75th Anniversary Membership Directory & Consumer Guide.  Send us your historical ad or let us create one for you!  See flyer or email me for more info.
Contact me today for help with your marketing plan, graphic design and all types of print and digital marketing.  (440) 934-1090 or maria.sabala.ncbia@gmail.com.
Download the Marketing Guide At-a-Glance!
---
NAHB Member Advantage gives members an easy way to reduce expenses, maximize profits and increase efficiency. Through agreements with leading national companies, NAHB offers exclusive discounts on a variety of products and services that can benefit your business, employees and family. In the past year, members have saved over $17M through Member Advantage. For the most up-to-date information about which companies are offering discounts as well as detailed information on how to access the savings, please visit www.nahb.org/savings.